In gravitational action vacuum streams inwards matter, dragging along everything that floats in it. When this process is time reversed, one gets an outward stream that likewise drags everything along with it in outward direction. When one subsequently applies the putting a velocity in a box method from paragraph Is this all? at page 4 of NEG, then one obtains an outward directed, constant acceleration: a true antigravitation. (1)
But this is not what we want, not there. Regard a planet orbiting a sun. When the film of this is played backwards we still see a planet orbiting a sun, albeit now in the opposite direction. This is not obtained by introducing a repelling gravity.
Vacuum streams out of a dark star. Still we see a planet orbiting it, a dark planet around a dark sun. (For more about the actual visibility of dark matter, see page 4 *) in the storyline FORWARD BACKWARD TIME DIRECTION.) Against the outflow of vacuum it deviates its track towards the star.
*) IF YOU ARE READING TONE AND READ IT FOR THE FIRST TIME, REGARD LINKS LIKE THIS AS A PREVIEW AND DO NOT VISIT THEM TOO LONG.
Most of them are treated later in TONE. One can recognize a TONE page by the TONE contents table at the top of the page.
In order to prevent their planets being dragged away from their suns, I devised a kind of trick. Imagine a dark planet orbiting a dark sun. At the planet we assume a hidden supply of velocity - all kind of velocities of equal amounts in opposing directions, carefully adding up to zero - from which the outward stream of vacuum erases one. Outward flow of vacuum removes velocity from the planets. The complement velocity, directed towards the dark star, remains and pushes the planet a bit towards the star, thus forcing it in orbit around the star.
Dark flow erases velocity. (2)
A laborious formulation, used to maintain the picture of gravity sketched so far and at the same time create the film of events in backward time direction of dark planets orbiting dark suns, as observed by us.
I am still not happy with this trick. I want the backward time evolving vacuum to drag things that are floating in it, just like forward time evolving vacuum does. And I still think it does. The film played forward exists and so must the film played backward. I only still didn't found a proper way to describe this.
The problem is issued well at the paragraph The sink drain, below at this page.
Maybe a better way to deal with this is using the Dark Multiplication Rules at page 2 of QG. However I didn't apply those rules to the laws of mechanics in a useful way yet. It remains a supposition.
We assume:
There is full symmetry between the forward and backward evolving worlds. (3)
Their laws of nature are identical to ours, that's our starting point. They regard us precisely in the same way as we regard them. (I am still unsure about the neutrinos, whether they see also only left hand neutrinos and right hand antineutrinos.)



There must be a time arrow in the vacuum itself. Let's launch another theorem.
Where time goes forward, there gravitational sagging-in of shells dominate. (4)
Where time goes backward, there antigravitational expansion of shells dominate. (5)
Where gravitation and expansion equal each other, there is the time border. (6)
We state:
BACKWARD TIME EVOLVING MATTER = DARK MATTER (7)
FORWARD TIME EVOLVING MATTER = BRIGHT MATTER
When time is reversed, a matter particle becomes an antimatter particle. This fits in with the CPT theorem at page 4 *) of QQD.
DARK MATTER = ANTIMATTER (8)
BRIGHT MATTER = OUR KIND OF MATTER





Event A := Event B
means Event A becomes Event B by means of time reversal. In this page time reversal means the film of the event being played backwards.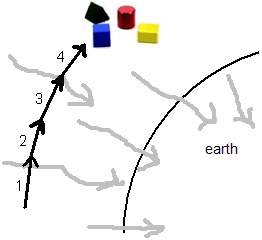 :=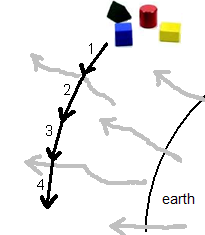 Forward vacuum Backward vacuum
The left picture just below is fig. 5 *) from page 1 of NEG. There the inward flow of vacuum (grey arrows) adds a velocity increment (perpendicular to orbit velocity) to the blocks that go with the flow.
When gravity is in action, space is disappearing. Shells of vacuum particles after rearranging have smaller surface than before rearranging of the vacuum particles. Space is shrinking when gravitation is in action, observable by all things floating in the vacuum, being dragged by it.
In the dark matter as we observe it, Higgs particles are emitted in the course of backward time evolving renormalization. The new Higgs particles are immediately absorbed by the vacuum, enlarging it by their volume. Space expands there (despite the erasure of velocity act). The number of vacuum marbles connecting them and us has grown, so there is more space between them and us.
Move the cursor from left to right over the lightgreen-lightblue bars to show the mechanism of gravity as proposed in the storyline NEG page 3, 4 and 5. The left side row of bars, denoted as Forward vacuum show gravitation, the row of bars at the right side denoted as Backwards vacuum show the mechanism of expansion of the universe - in fact antigravitation, the gravitation of antimatter.
lightyellow = three dimensional vacuum, consisting of vacuum marbles. For convenience, regard each shell as consisting of a layer of one vacuum marble thickness.
gray = a hole in the vacuum
A = a mass center