When a photon hits an electron, the electron can be pushed aside according to the Compton scattering rules.

The photon that just passes by without reacting still has one definite past. One just elongates the line along which it is travelling in backward direction, a straight line in a curved spacetime, and there you are. But the ph 2-3 is new. On itself it doesn't have a fixed past. When it emerges suddenly quite a number of possibilities for its past join the superposition. The past of ph 2-3 (up until now that is ph 1-2) will be in a superposition of all possible directions it could have come from (among which is the ph 1-3 passage through the electron). Is there anything that forces us to enter one of those possibilities ph 4-2, ph 5-2, ph 3-2, ph 6-2, ph 7-2 or one of the directions in between? (see fig.5)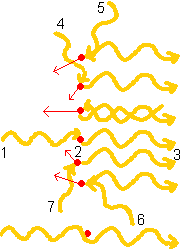 fig.5: All possible pasts of ph 2-3.
Yes, the electron. Compton scattering rules demand the directions of the photon and the electron after scattering both start at 2 (the original electron's place) and then to lie in the same plane. Measuring the electron's state will make us enter one of these possibilities. If the photon comes from by example direction 4 the electron is pushed downward-left in the figure. The photon then had its origin somewhere on the photon's worldline in direction 4. If direction 7 eventually has been chosen, the electron is pushed upward-left in the figure and the photon had been born somewhere on the worldline of direction 7.

In the next page we make a trip to massive particles joining the superposition and gravitation spoiling the picture, before returning to the possible pasts and futures of the reaction ph 1-2-3.


NEXT PAGE Up

CONTACT